How much does an Auto Electrician Cost?
A good auto electrician professional can make or break a vehicle. Hence, it's important to choose a reliable one that guides you properly throughout the process. Being aware of certain factors before opting for the services of an automotive professional can save a lot of time, effort, and money. One such factor is understanding the issues unfolded by an auto electrician.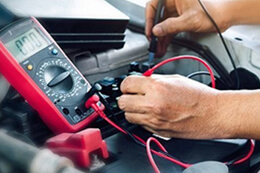 Understanding Electrical Systems & Issues
The main components of an auto electric system are the battery, alternator, wiring, fuses, and relays. The battery is part of the power supply unit and is responsible for providing electric current to the motor. Hence, in the case of a dead battery, the motor will fail to spin and would require replacements. The alternator is a component that charges the battery and powers the electrical system of your vehicle.
Any fault with the alternator provides the vehicle with starting trouble as the battery gets drained. Fuses are used as protective measures for the wiring and electrical components. In the case of high electricity, the fuse would blow up. Relays are switches, and they aid in turning certain circuits on and off.
If there is a problem with the starter relay, the battery will never receive the signal it requires to start a vehicle. A clicking sound is often heard with a faulty relay when you turn your car. The system logs the faults or issues, and warnings are prompted on the dashboard, which can be known further by reaching out to a well-qualified auto electrician.
With most of the starting problems dealing with the electrical system, repairing electrical faults, wirings, or related equipment can put your vehicle back into working condition.
Checking up for loose spark plug alleviates the poor performance and eventually engine damage. Since the electrical and mechanical components are interrelated, it's better to check both of them. Checking up on the radiator for leaks and routinely monitoring the coolant level can be a lifesaving habit for your vehicle.
Factors Impacting the Cost of Auto Electrician Services
Several factors determine the overall charges demanded by an auto electrician. If it's a small issue like replacing a relay, wire, or a fuse, then it can be done in no time easily with fewer charges. But, if it involves replacing the major components, then that would incur more changes.
Plus, if the spare parts are nowhere to be found and need to be imported, you can expect a little more rise in the service charges. Other factors contributing to the amount are the type of vehicle, region, skills required, and the number of hours spent diagnosing and fixing the problem.
If you opt for services at Eastbound, our specialized team of auto electricians can do a great deal of other diagnostic checking and ensure that your vehicle runs smoothly at all times at reasonable rates.
If you are interested in knowing further about our services, please connect with our team.