What is an Automotive Electrician?
If your vehicle ever went through a breakdown or malfunctioned, then you would have surely needed people smart enough to fix them. These people highly skilled in the repair & restoration of motor vehicles are known as automotive professionals. Automotive electricians go a bit further and specialize in the electric systems within the vehicles. A capable automotive electrician can provide great insights into increasing the overall efficiency and performance of your vehicle.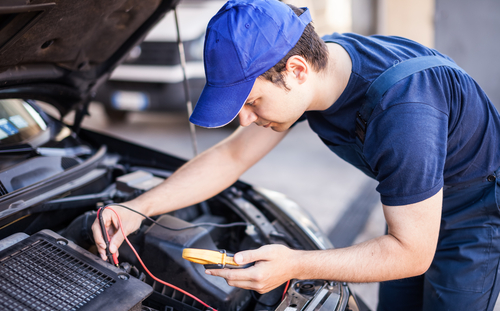 So, what can an Automotive Electrician do?
Automotive electricians have hands-on experience fixing various components used in the system such as the headlights, battery, alternator, starter, wiring, fuses, relays, diagnostic lights, alarm systems, fuel injector systems, airbag systems, ignition systems, and various other circuit boards. These specialists can assist you in performing diagnostic electrical tests to understand the underlying issue in a vehicle. Utilizing their extensive knowledge in complex electric systems combined with their strong analytical skills, they devise a repair plan that suits your issue.
Aside from this, automotive electricians are proficient with installing interior electrical systems viz., radio, sound system, and GPS. With immense dexterity and attention to detail, these professionals are adept at handling the wiring system and undertaking tests for headlight alignment and intensity. Being great at what we do, our team of highly trained and passionate experts can help you with a wide range of your interior requirements and guide you through the solutions that are worth the money.
Tools & Specialties of Automotive Electricians
There are several kinds of vehicles manufactured by different automotive industries. In the same sense, an automotive electrician can specialize in any type of vehicle, namely light vehicles and heavy vehicles. Light vehicles involve motorcycles, cars, jeeps, taxis, etc., and heavy vehicles include buses, trucks or lorries, trailers, garbage haulers, etc. An automotive electrician uses a variety of tools, including oscilloscopes, OBD reader, to diagnose the faults of your system, thereby ensuring that every aspect of your vehicle is in good working condition.
Similar to how doctors are to patients, automotive electricians are professional problem-solvers of your vehicles. They are capable of diving deep into your vehicle's problem, analyze and find the optimum solution for your vehicle. In addition, they follow the industry quality and safety standards and ensure that your vehicles are in good shape before providing you a ride. At Eastbound, our services are restricted not only to the electrical systems of a vehicle but include logbook servicing, LPG services, and mechanical services.
We are always happy to help new customers with any business queries and guide them in fixing their vehicles. So, if interested, reach out to our team right away.